The installation has been prepared. The barcode has been entered. Last checks, everything is ready. From now on everything depends on your fusion unit. Good for you if you can rely on your equipment ...
Easy
Everything in the FRIAMAT fusion unit has been designed for easy and safe handling. Low weight, clear structure for operating and sophisticated functions will convince you and excite your workforce.

Strong
Strong output: FRIAMAT fusion units work at top reliability on dimensions ranging from d 20 to d 800. Strong in each detail: e.g. extra long fusion and mains cable, weather and corrosion resistant materials, large box to store accessories and clear display.

Safe
Safety first. This mainly applies for the fusion, but also notably to your workforce on the construction site. Therefore, FRIAMAT fusion units provide optimum protection due to their design dedicated for the construction site and consistent quality management according to ISO9001.

Electrofusion made simple
Your FRIAMAT has been prepared perfectly for the programming of data: user-friendly keyboard and clear menu instructions on the extra large display. Whether fusion data, traceability data or other additional construction site information - you decide which data you would like to have available after the fusion. Using your personal supervisor card allows you to set your FRIAMAT to prompt for required data. Work on the construction site every day will become considerably easier.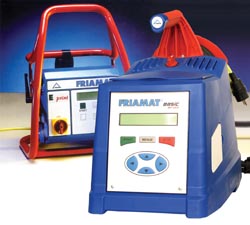 Efficient data processing . . .
FRIAMAT fusion units can store over 30.000 data entries. Naturally these may be printed or archived once connected to a printer at the parallel or USB interface. However, you will make your data maintenance even more efficient by using the special FRIATRACE database software. The data is entered from your FRIAMAT via the Memory-Card or via the Memory-Stick. Any further processing or archiving is done quickly and easily on your laptop or PC.

. . . and much more
Even the basic model is equipped with the essential advantages of the FRIAMAT product range: low weight, large box to store accessories, easy cable collection and much more which will make work on the construction site easier, safer and more efficient. The FRIAMAT is available in four different designs. You make the decision according to your needs.