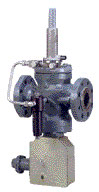 The Type EZR pilot-operated, pressure-reducing regulators are used for natural gas, air, or other non-corrosive gas applications and include a Type 112 restrictor and a 161EB, 161AY or PRX Series pilot. For applications that have high pressure drops, using a Type 161AYM or 161EB monitor pilot will increase the accuracy of the regulator.
EZROSX with Slam-Shut Device
The optional slam-shut device can provide either overpressure or overpressure and underpressure protection by completely shutting off the flow of gas to the downstream system. The slam-shut has a mechanism box and a manometric device. The manometric device is a spring and diaphragm actuator. Its movement activates the detection stage of the mechanism box. The shutoff is a two stage process, the detection stage and the power stage. This separation between detection stage and power stage provides maximum precision, alleviating many false trips caused by environmental vibrations.
Features
EZR
● Robust
● Quiet Operation
● Thoroughly Tested
● Exceptional Design
● Internally Actuated
EZROSX
● Tight Shutoff
● Robust
● Exceptional Design
● Quiet Operation
● Thoroughly Tested
● Internally Actuated
● Debris Protection
● High Accuracy
● Easy In-Line Maintenance
● In-Service Travel Indicator
Pressure Registration
External
Maximum Operating Inlet Pressure
1050 psig (72,4 bar)